Yes, a vegan Coq au Vin! It doesn't sound like a likely candidate to turn into a vegan gourmet experience but here it is, and all homemade with nutritious vegetables, plant-bacon and one really hearty antioxidant-rich red wine sauce. We haven't used shop-bought vegan protein meat supplements either so the processed ingredients are minimised radically and it is all prepared very simply and a lot quicker than it would do the original stew.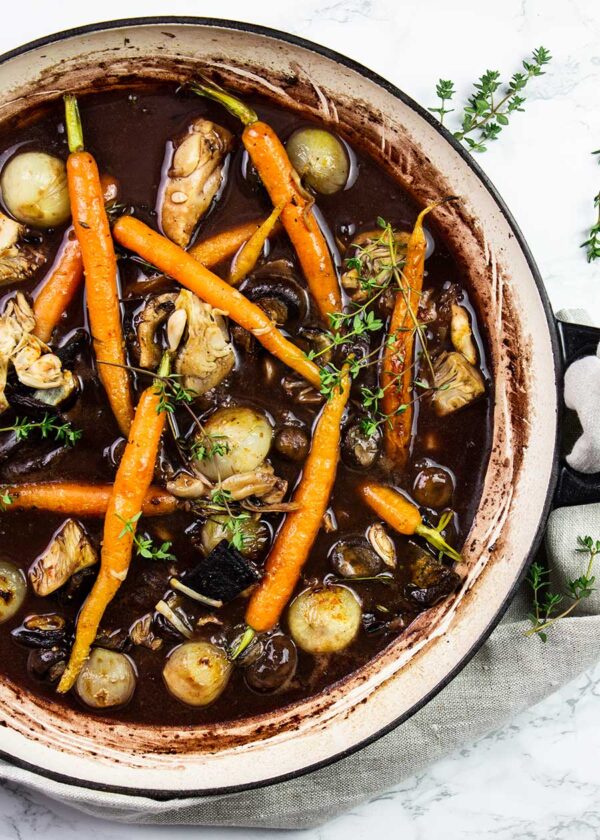 What's Coq au Vin?
Coq au Vin is a traditional French rustic stew that hails from humble farmyard origins where an old male chicken and a bottle of wine are used to create a hearty stew that is full of rich flavour. Unlike chickens, the cockerel, which had an important role in procreating for new chickens to sell, was used. Because of its important role, the male chickens grew old. This meant that when their time had finally come, the farmers, needing to use everything possible from the farm would cook them too. The toughness that came from age didn't make a good ingredient to butcher and sell, so cooking the bird for a much longer time by braising it and stewing was necessary as it tenderised the meat. As it took a long time to prepare, and that it wasn't so often that this precious bird was at the end of its life to cook, the humble Coq au Vin raised in the ranks to a celebratory dish for a special occasion. One that honoured the life of the bird, and one that could get friends and family around a table to enjoy a truly spectacular dish. The rest of the ingredients that give this casserole its individuality are mushrooms, small onions and bacon lardons. With some choice herbs, the whole lot is slow-cooked in a decent bottle of red wine with stock until the hearty flavour permeates the entire dish. Classically, it is all served with some soft mashed potato, and we'd expect another bottle of that wine would be served alongside it too.
No chickens were harmed in the making of this dish
Of course a vegan Coq au Vin contains no chicken or cockerel to stew for hours. The reason the original ingredient is stewed for so long is to give a tough meat a soft texture but with a firmness, that means that you have to gently pull it apart with your teeth. It is what our teeth are designed to do which is why we crave texture such as meat to eat. This texture, however, comes from plants too. And just as you would cook meat protein to soften it, you need to cook plant produce to give it their particular texture too. With our substitute for the cockerel however, it doesn't take nearly so long to give it a nice firm texture as it does to tenderise the meat from a cockerel. We have opted to use jackfruit as our meat. It is a fantastic fruit that contains a fair amount of water. This water gives the jackfruit a slightly fruity taste reminiscent of savoury lychee. The texture however is firm and slightly stringy which is why it is used as a fantastic plant-based substitute for many meat dishes such as pulled pork or duck to use in Chinese pancakes, stews, salads and even sushi. The way to create such a versatile ingredient that belongs in any of these dishes is down to simple preparation techniques that remove the liquid and replace it with a new flavour. You can dehydrate the fruit in the oven and then marinate it or brine it to give flavours that work well in sushi such as our jackfruit spicy tuna roll for example, but here it is even more simple. All you need to do is squeeze the jackfruit in muslin to remove as much liquid as possible. A quick grill under high heat with some seasoning is then all that is required, then when you add this to your stew, the jackfruit starts to swell with the new flavours that you have created. What's even simpler is that the other principle ingredients involved in this dish such as the mushrooms and shallots, and in this recipe, a few new carrots, also benefit from a quick grilling. All that is needed is a drizzle of olive oil and a few herbs and spices that give the vegetables more of a savoury flavour. These are garlic salt, onion powder, paprika and a touch of soy sauce. Toss it all together and in only 10 minutes under the hottest grill setting, you have nicely browned vegetables ready to add into a rich sauce.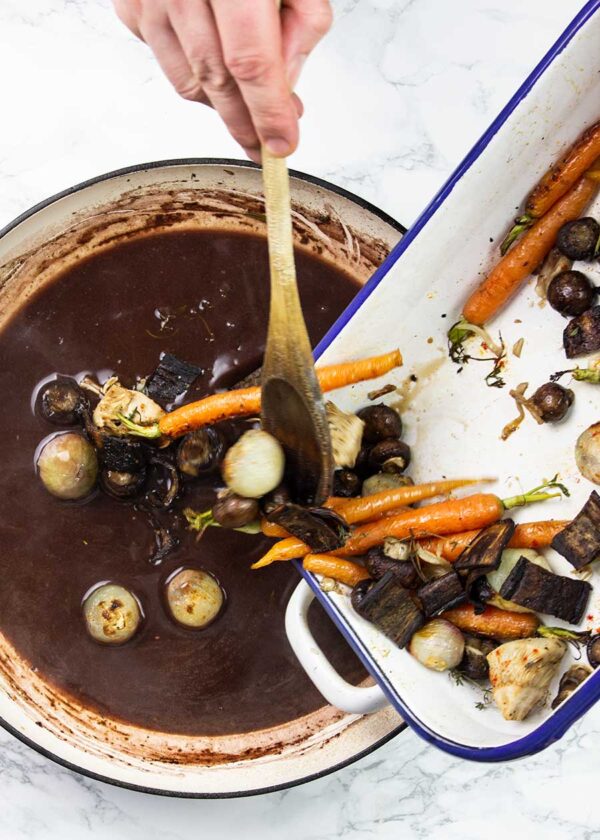 This is the other important aspect of this vegan Coq au Vin. The sauce is made by itself without the need for it to tenderise a piece of meat or to slowly flavour or be flavoured by it. In essence, we are making a vegan red wine jus that is made with a decent vegetable stock that has been enriched with yeast extract. We also mix our vegetable stock with mushroom stock for a more rounded flavour that compliments the ingredients in the vegan Coq au Vin. Without gelatin which would come from a meat stock to thicken the sauce, we have to create the gravy texture using flour. Again, as we are not slow cooking this, we only need a cupful of wine rather than a whole bottle. We start adding some chopped plant bacon to a hot pan with a little olive oil. This is to crisp the plant bacon and it only takes a minute or so. We use a homemade aubergine plant bacon recipe but you could use your favourite shop-bought brand. Once the plant bacon is cooked, remove it from the pan and set aside to use later. The melt some redcurrant jelly in the pan, you could use agave syrup or date nectar for a healthier sweetness but we find the classic combination of redcurrants in the sauce flavour it better. Once it is foaming then deglaze the pan with a cup of good red wine. If a wine is not good enough to drink, it is not good enough to put in your food. A dry tannin red such as a Bordeaux works well. This needs to reduce by a third. Then you add the stock to which you need to stir in 1 tablespoon of flour and whisk well to avoid any lumps, and some fresh herbs such as thyme, rosemary and a bay leaf. Woody herbs impart the nice hearty flavour you are looking to achieve. Then simmer for between 25 and 30 minutes. 
Once the sauce is simmering, peel some potatoes and quarter them and boil in a pan of salted water for 20 minutes or so you can prod a knife through them. Then drain the water and let them steam for a few minutes. Mash them with a potato masher or ricer and stir in a little olive oil and some plant milk. 
If you start by preparing the sauce first then prepare the jackfruit, mushrooms, carrots and onion to go under the grill, your total cooking time with prep time will be only about half an hour. Also, the vegetable content in this stew makes it a nice healthy dinner. Even with a cup of red wine as red wine contains the potent antioxidant resveratrol. With this powerful antioxidant, it helps the body defence against the harmful effects of free radicals which are produced when you metabolize your food causing oxidative stress. So this vegan Coq au Vin is wholesome, nutritious and healthy.
Other hearty recipes on the blog
Have you made our vegan Coq Au Vin recipe?
We'd love to see your plant-based Coq au Vin creations! Please leave a comment below, share or tag using @anticancerkitchen on Instagram and hashtag it #anticancerkitchen.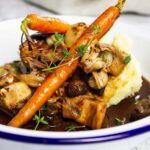 Ingredients
210g (1 tin) of jackfruit, drained

10 fresh small silver skin onions or shallots, peeled

150g of small button or chestnut mushrooms

10 new carrots

6 rashers of vegan bacon (see our recipe on the blog)

Seasoning for the vegetables and jackfruit:

2 tablespoons of olive oil

1 teaspoon of garlic salt

1 teaspoon of onion flakes

1 teaspoon of fennel seeds

1 teaspoon of soy sauce

½ a teaspoon of paprika

For the red wine sauce:

3 cups or 750ml of half vegetable stock and half mushroom stock

1 teaspoon of yeast extract

1 cup or 250ml of red wine

1 teaspoon of redcurrant jelly

1 tablespoon of flour (whisked into the stock)

A few sprigs of fresh rosemary and thyme, 1 bay leaf.

For the mashed potato:

4 russet potatoes, peeled and quartered

⅓ of a cup or 80 ml of plant milk (we use oat milk)

1 tablespoon of olive oil

Seasoning, salt, pepper and 1 teaspoon of mustard
Instructions
Chop the plant-based bacon (see our homemade recipe here) into bite-size pieces and fry in a heavy-based casserole dish in a little olive oil for 1 minute.
Remove the bacon and set aside.
Add the recurrent jelly and cook until foaming. Pour in the red wine and boil for 5 minutes to reduce by a third. Prepare the stock and pour most of it into the sauce. Reserve a little and whisk in the flour. Pour this into the sauce, stir, add the herbs, and turn the heat down and simmer for 25-30 minutes.
Bring a pan of salted water to a gentle boil and add the potatoes. Simmer for 20 minutes until they are soft. Drain and let them steam for a few minutes. Mash and add the olive oil and plant-milk and season with salt and pepper and optionally some mustard.
Preheat the grill/ broiler to a high setting.
Drain the jackfruit and place them in a muslin sheet and squeeze to remove the liquid. Then place them in a bowl with the mushrooms, onions and carrots. Add the seasoning of the oil, soy, garlic salt, onion flakes, fennel seeds and paprika and toss the bowl to coat all of the vegetables.
Transfer the seasoned vegetables to an oven dish and place it under the grill for 10 minutes. Remove them from the grill and set aside until the sauce is ready.  
When the sauce is done, stir in the vegetables and vegan bacon in to warm through. Serve with the mashed potato and garnish with some fresh herbs. We love fresh thyme. 

Copyright secured by Digiprove © 2020 The Anti-Cancer Kitchen