Today is the exactly one year since I got my diagnosis. The day when my whole world just collapsed. I had cancer, I was living with cancer. An aggressive cancer. I was only 32 years old and just had my babies. This was the day when everyone wanted to know my news, the good news that it all was fine. But it was not like that at all, instead I was left with breaking the cancer news.
Breaking the news that you have cancer is probably the hardest thing you can do. There are no strategies. How do you tell your mother you have cancer? How can you tell your friends that the biopsy is cancerous after "don't worry, it's probably nothing"? Since I was diagnosed I've felt like my life has turned up-side-down. I was supposed to start this year strong and healthy. I was finally starting to sleep better as my youngest was sleeping better at night, I was going to/ well trying (when I did not drank wine which are most days – you should try a life with two toddles under 3) the gym 5-times-a-week, and I had eliminated naughty carbohydrates from my diet and introduced healthier, but still yummy, desert and cake alternatives when baking with my boys (hmm attempted a few times). This was going to be my year. 
Breaking the news….I must admit, I found it easier to tell people over a text, a Whatsapp, a Facebook message. Probably because I didn't have to face them. Still to this date, I haven't told everyone. Telling my mother was the hardest. I could not have done it via a message. It had to be done via FaceTime. I tried as much as I could to keep my tears away, as I could see hers coming. I had to be strong and almost highlight every third minute that I was going to be fine. But how do I know for sure? Well, I just have to trust the science and believe it will work! If I believe, then everyone else will. For a good week or so my mother was questioning whether the results and diagnosis was correct. "Hasn't this been some sort of a mix-up" she repeated? Maybe we need to get another doctor to look at this. I suppose, like any mother, she was in denial.
The worse thing is that people don't really know what to say when you tell them. It's the pity eyes; But I totally understand! My best friend burst into tears when I told her – I'm sure I would have reacted in the same way.
The best thing for me was for M to take on most of the "breaking the news" part, as I couldn't face it. He tells me that the best way to do this is to avoid negative words, so instead of saying, "she has cancer" or "I have cancer", focus on the therapy side of it and say, "she is going to go through chemotherapy for the next six months, then surgery, and most likely radiotherapy". Never mention the word 'cancer' if you can help it. People don't respond well to the big 'C', as we all know.
Today it's been a year since that day, when everything felt so surreal and unreal. But this year I am free from cancer and recovering. What a difference a year makes right? I feel so much better! So I would like to share my favourite carrot detox juice recipe with you as it helps me feeling fantastic again.
This carrot juice is all about detox, chemotherapy and radio therapy recovery. Apples are known for boosting our immune system and keeping us free from infections, which is very important during chemotherapy. Carrots contain powerful ­cancer-fighting chemicals such as falcarinol. The benefits of lime are many, including stimulating production of enzymes that help your liver detox. The limes have also shown to be able to restrict cancer cell progression and induce cell death.
Have you made this carrot detox juice recipe?
We'd love to see your juice creations! Please leave a comment below, share or tag using @anticancerkitchen on Instagram and hashtag it #anticancerkitchen.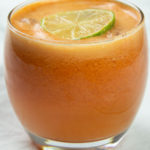 Ingredients
3 carrots

3 apples

2 cm of ginger

1 lime
Instructions
So, all you need is a juicer and juice the carrots, apples, ginger and lime.