Easy, nourishing, super healthy oatmeal banana cookies that are chewy and crunchy. These one-bowl oatmeal banana cookies are vegan, refined sugar-free and done in under 30 minutes. 
What's in our healthy cookies? 
When we say healthy. We mean healthy. These cookies are made with potentially the best anti-cancer foods you can find out there. We are talking about oats, chia seeds, flaxseeds (linseeds), goji berries, pumpkin seeds and to sweeten and bind the dough, we add mashed banana, a little bit of cinnamon and a dash of Agave nectar. The result is amazingly healthy oatmeal banana cookies that are perfect for breakfast or a snack, even on the go. 
How to make healthy oatmeal banana cookies 
All you need is one bowl to mix all the ingredients. There is no right or wrong what goes in first or last. It just needs to be mixed well into a paste.
We start by mashing the banana. Then add the rest of the ingredients and stir until we have a cookie cough. There is no butter or dairy in these cookies, to make them healthier, we use pure coconut oil and oat milk. The dough should be a little bit wet. If it is more on the dry side, try adding some more oat milk or plant-based milk of your choice. When the dough is done, it's time to make the cookies which is the fun part and put them in the oven to bake for approximately 20 minutes. 
Let's go onto why these oatmeal banana cookies are so good for us.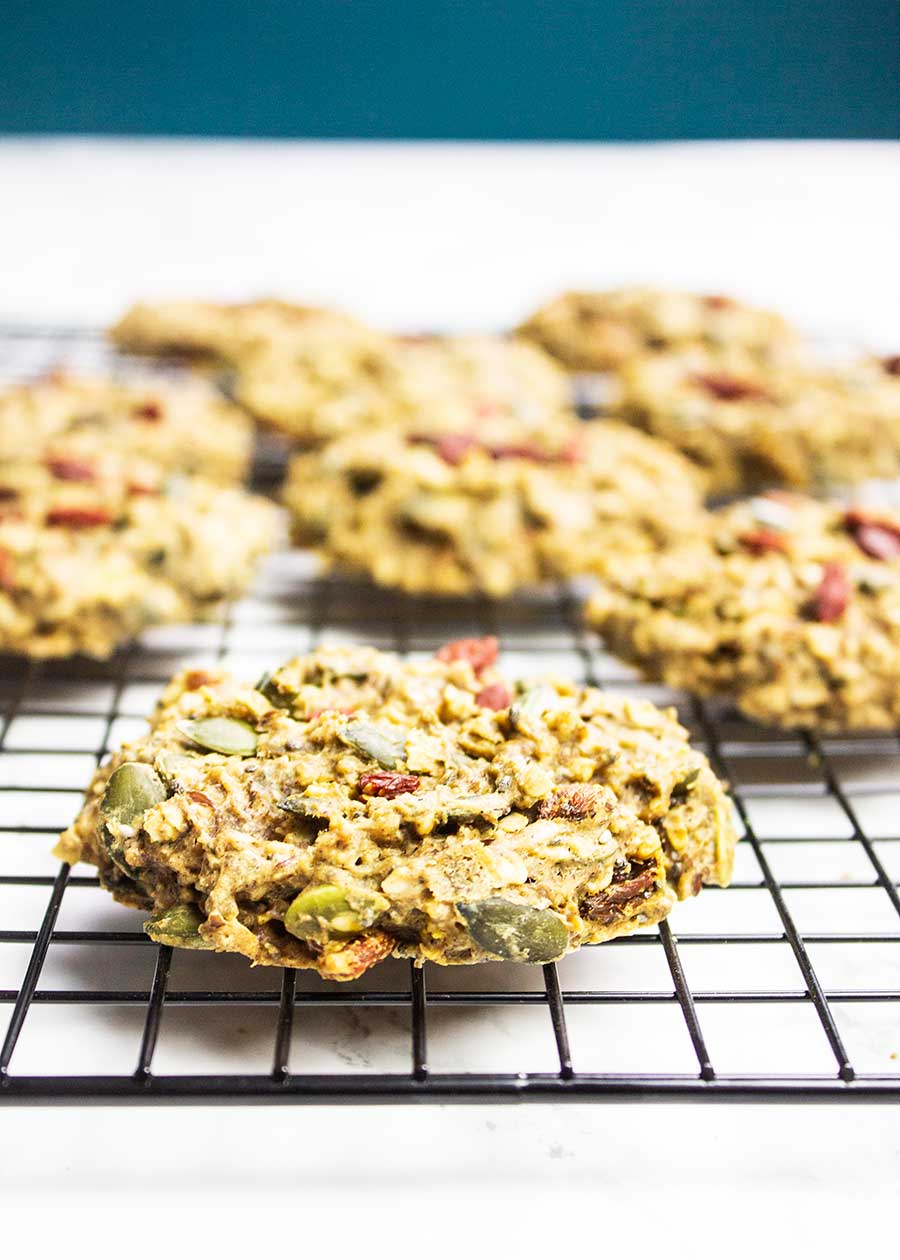 Only healthy ingredients in our oatmeal banana cookies
Oatmeal
Oats is used in many breakfast dishes due to its ability to slow release of energy throughout the morning and keeping us fuller for longer. Oatmeal has many health benefits including lowering blood sugar levels, reducing the risk of heart disease and potentially fighting cancer cells. Oats is a grain that is gluten-free and is a great source of important vitamins, minerals, fibre and most importantly antioxidants.
Antioxidants are very crucial for us and our health as they try to get rid of toxins in our bodies which could potentially lead to cancerous tumour growth. These toxins are also known as free radicals which can damage our DNA cells which may start cancer. The best way to include antioxidants in our diets is to eat whole foods rich in natural antioxidants. Antioxidant supplements are not the same thing and can even be harmful. So be aware. 
Oats is a grain that is available in most supermarkets and due to its incredibly high level of antioxidants than most other grains, it is definitely one to add into your shop basket now and forever. It's good to know that quick-cooking or instant oatmeals are processed and are high in sugar and additives. We would recommend getting organic rolled oats. 
There are many ways to incorporate oats into your diet. You can have it as actual oatmeal with a little bit of milk and banana. Or you can try recipes such as overnight oats with berries, overnight oats with turmeric, healthy homemade granola. Additionally, you can add oats into your smoothies or cookies like we are doing here.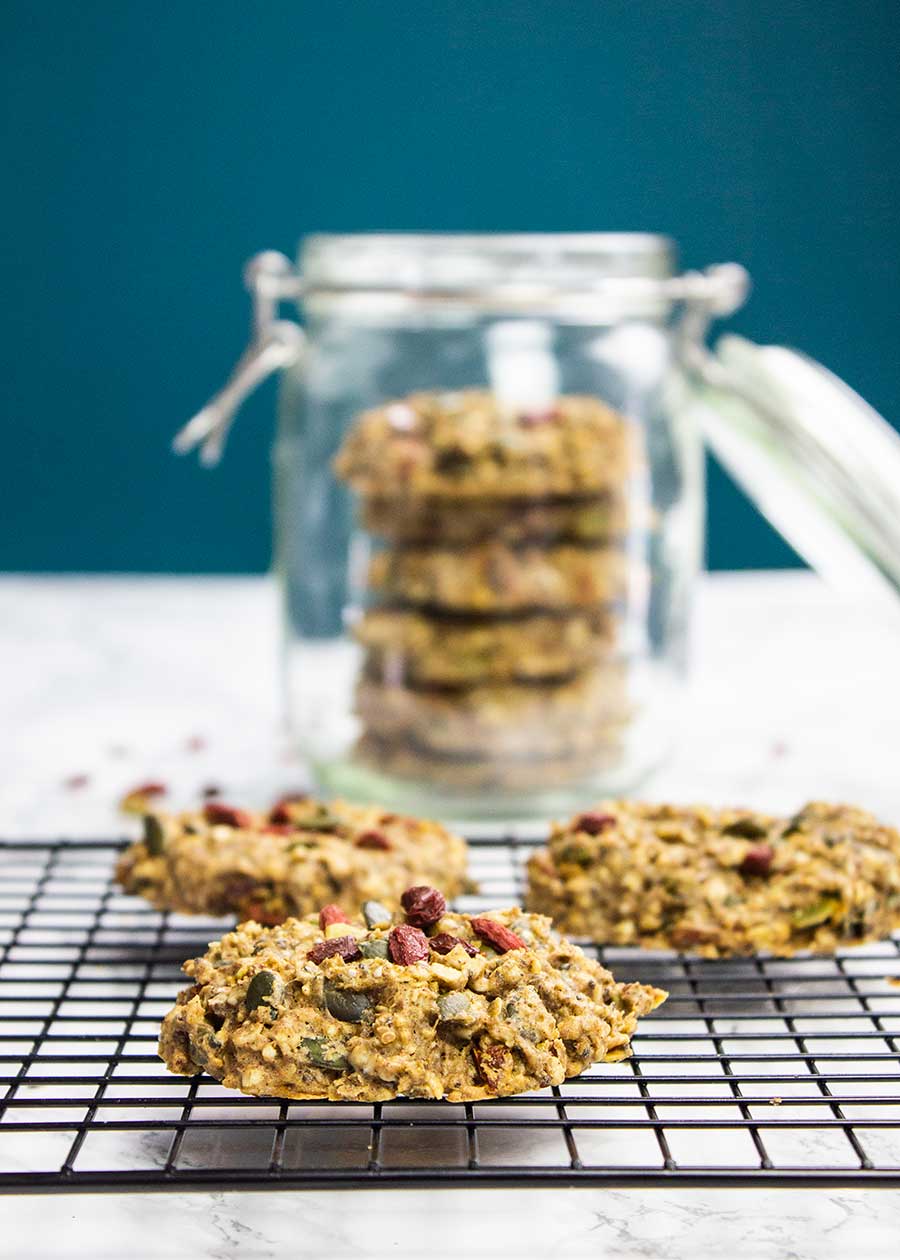 Chia seeds
We love chia seeds. Chia seeds make the perfect puddings, acts as an egg substitute and is incredibly cancer-fighting. We will say it again, we absolutely love chia seeds. We can't live without them. Literally! And, we tell you why in a second. 
Like oats, chia seeds are also incredibly high in antioxidants. They also help fight oxidative stress caused in our bodies by free radicals which are negatively-charged molecules in the body formed after we metabolise food that cause damage at a cellular level. Chia seeds are also high in fibre. Who knew that this little seed is actually one of the most fibre-rich foods in the world. Fibre is important for us as fibre-rich foods may help reduce our overall calorie intake and help us to maintain a healthy weight, which is vital to reducing cancer risk. Additionally, research has shown that eating foods high in fibre, particularly wholegrains, reduces our risk of bowel cancer. 
Chia seeds are also high in plant-based protein. Protein is required for the structure, function, and regulation of our bodies' tissues and organs. Additionally, protein is important to repair and maintain healthy body cells.  
Another very important cancer-fighting component in chia seeds is lignans. Lignans have anti-estrogenic effects that inhibit cell growth in breast tumours. The bottom line is that eating more lignan-rich foods will potentially reduce the risk of hormone-related cancers. 
Flaxseeds
Flax seeds originate from the Middle East and are best described as a nuttier version of chia seeds. The health benefits of flax seeds are more or less the same as chia seeds. Saying that flax seeds contain significantly more manganese, copper and potassium. 
Flax seeds are a good source of alpha-linolenic acid (ALA) which is a type of plant-based omega-3 fat. ALA is considered essential as it's a type of fat that our bodies cannot produce which means that we can only eat it through the right diet. Research has shown that ALA is important for lowering the risk of heart disease.  
The source of anti-cancer lignans is also very much present in flaxseeds. In fact, flaxseeds are the richest food source of lignans which is a type of phytoestrogen. Interestingly, phytoestrogen is a plant nutrient that is quite similar to the female hormone oestrogen. As they are very similar, lignans may have oestrogenic and/or anti-oestrogenic effects in our bodies depending on what your body needs.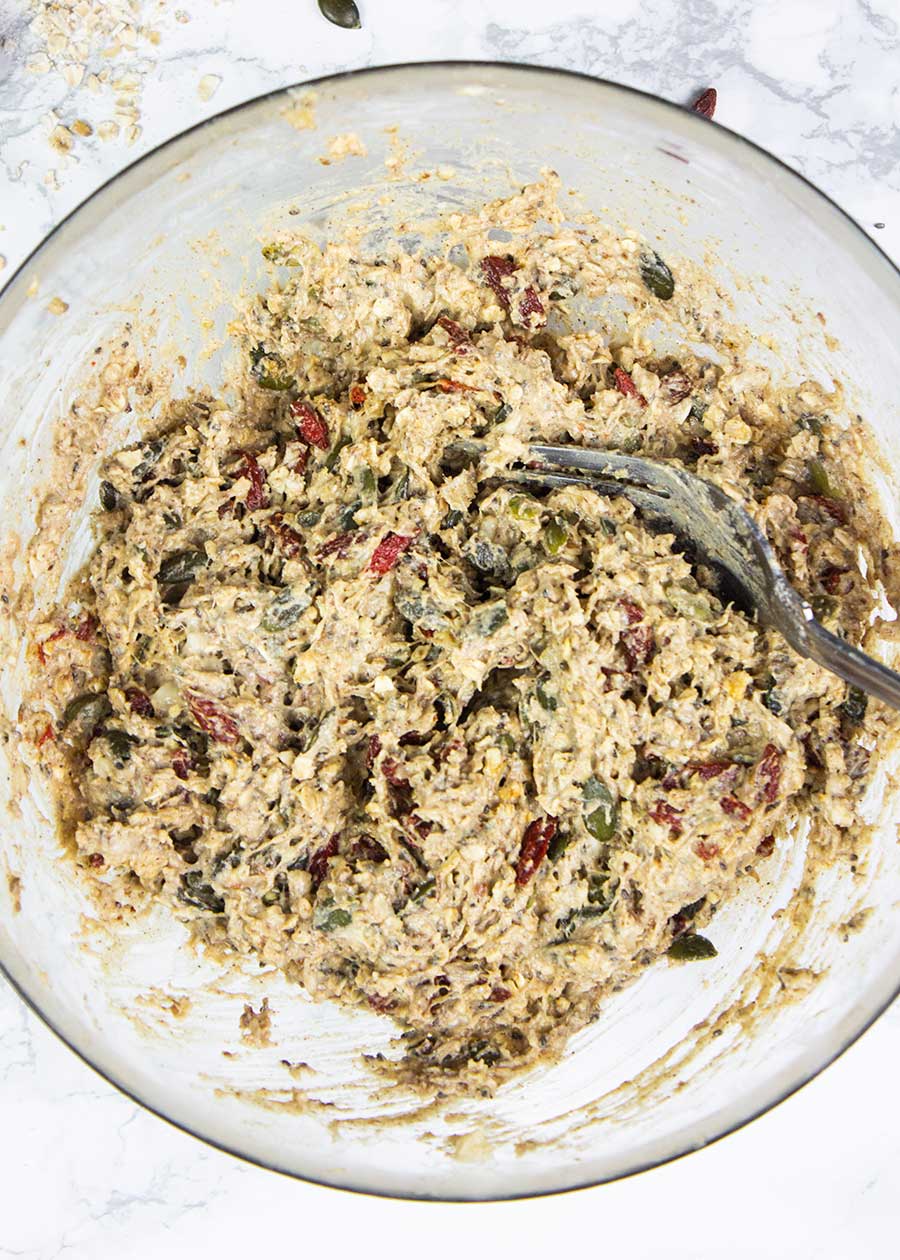 Goji berries
One of our favourite berries is goji berries. Goji berries' health benefits list is long. The little red berries are incredible. They protect our eyes, provide immune system support, help protect against cancer, promote healthy skin, help to stabilise blood sugar just to name a few.  
Goji berries are an ancient fruit originating from China, Mongolia and Tibetan Himalayas. Goji berry is a true superfood is perfect in our healthy oatmeal banana cookies as it's very rich in vitamin C. 
Regular consumption of vitamin C may reduce the risk of cancer as vitamin C is a powerful antioxidant that prevents cellular damage which is linked to cancer. 
Pumpkin seeds
Pumpkin seeds are the oval, dark green seeds that are packed with vitamins and minerals. They are a good source of protein and unsaturated fats, including omega-3. Moreover, they are cancer-fighting. Due to their high content of antioxidants, pumpkin seeds may help reduce inflammation and prevent damage from free radicals. Pumpkin seeds are also rich in fibre, vitamin K, copper, manganese, potassium, calcium, iron, magnesium, zinc and selenium – all of which boost our everyday health.
Have you made our healthy oatmeal banana cookies recipe?
We'd love to see your healthy oatmeal banana cookies creations! Please leave a comment below, share or tag using @anticancerkitchen on Instagram and hashtag it #anticancerkitchen.
More healthy sweet recipes on the blog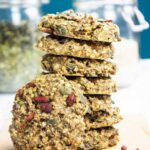 Ingredients
1 cup of organic rolled oats

1 medium-sized banana, mashed

1/2 cup oat flour

1/3 cup goji berries

1/3 cup organic coconut oil

1/3 cup pumpkin seeds

1 tablespoon chia seeds

1 tablespoon flaxseeds ground (linseeds)

1/4 cup oat milk or a plant-based milk alternative of your choice

1 teaspoon cinnamon

1/2 teaspoon baking soda

A dash of Agave syrup (optional)
Instructions
Preheat the oven to 150c or 302°F.
In a large bowl, mash your banana. Then add the rest of the ingredients and stir until you have a cookie cough.
The dough should be a little bit wet. If it is more on the dry side, try adding some more oat milk or plant-based milk of your choice. 
Use a tablespoon to make small scoops of the dough, spacing them well apart on the baking trays. This dough mixture should make about 9 cookies.
Bake at 150c or 302°F for 17-20 minutes, until edges, become slightly browned.
Leave on the tray for a couple of minutes to set and then lift onto a cooling rack.
Store in an airtight container for a week.
Step-by-step guide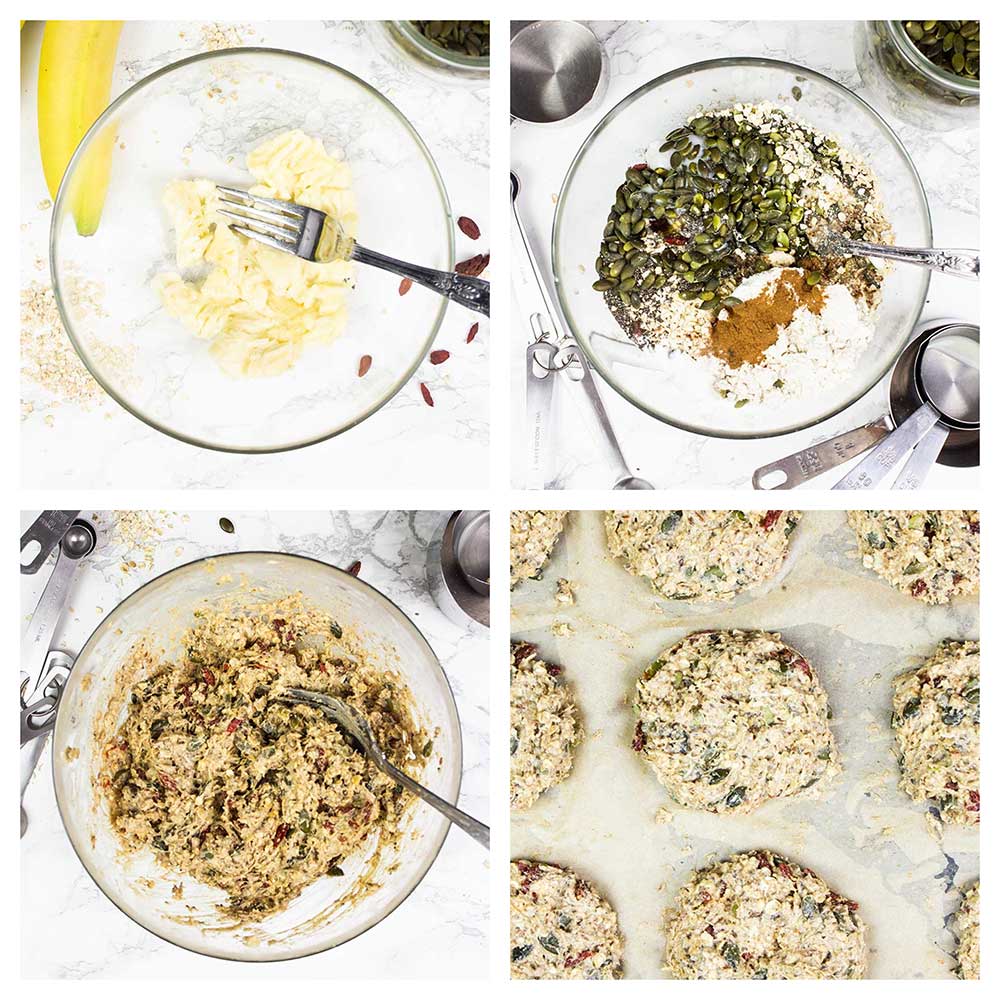 Copyright secured by Digiprove © 2020 The Anti-Cancer Kitchen