I think this is our favourite healthy overnight oats recipe ever. Maybe because we are obsessed with blueberries and oats in this family. Do you know what's better than this delicious overnight oat recipe – blueberry crumble with vanilla custard or homemade ice cream! We will attempt making a healthy blueberry breakfast crumble next time, until then this yummy breakfast will do. It tastes like a treat and is incredibly healthy. When making this healthy overnight oats recipe in the evening, we can't wait to have the oats the next morning. It's that good. Probably because it tastes more like a dessert. Naturally sweet and crunchy.
As a breast cancer fighter or survivor, it is important to eat seeds like flax seeds (also called linseeds) as much as possible. Flax seeds are the richest dietary source of lignans, a type of phytoestrogen, a nutrient that is quite similar to the female hormone oestrogen. For someone that has hormonal breast cancer, lignans may act as an antioxidant and prevent or slow cancer cell growth.
According to Cancer Research UK and studies carried out on breast cancer cells in mice show that flaxseeds might help to make the hormone drug tamoxifen and antibody treatment Herceptin work better. Other powerful foods rich in lignans are chia seeds, sesame seeds, kale and broccoli.
Have you made this healthy overnight oats recipe?
We'd love to see your food creations! Please leave a comment below, share or tag using @anticancerkitchen on Instagram and hashtag it #anticancerkitchen.
For more healthy breakfast recipe ideas, click here.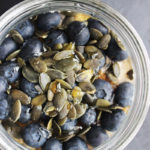 Ingredients
120g organic oats

1 table spoon chia seeds

1 table spoon flax seeds/linseeds

300ml almond milk

100g blueberries

1 tea spoon vanilla extract

1 table spoon pumpkin seeds (sprinkle on top for crunch)

1 table spoon honey (optional)
Instructions
Combine the oats, milk, seeds, vanilla extract and blueberries in a bowl;Cover the bowl and place it in the fridge overnight. The next morning, give the oat mixture a quick stir, garnish with blueberries and pumpkin seeds and drizzle some honey on top.