Overnight oats with berries recipe that is easy to make and extremely healthy.
Who does not like a quick breakfast that is not only ridiculously nutritious but also amazingly tasty? We do!
You can also have it easy on the go or at your office desk. In this overnight porridge, with berries you have chia seeds and five incredibly important berries which are all packed with powerful antioxidants and anti-inflammatory agents to prevent and fight cancer cells. This breakfast will boost your energy levels and ensure a healthy start to your day, guaranteed! 
Have you made this overnight oats with berries recipe?
We'd love to see your food creations! Please leave a comment below, share or tag using @anticancerkitchen on Instagram and hashtag it #anticancerkitchen.
Other overnight oats recipes you might like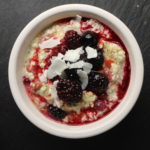 Ingredients
120g organic oats

10g goji berries

10g chia seeds

300ml oat milk

100g summer fruits - blackberry, raspberry, blackcurrant, redcurrant (frozen)
Instructions
Combine the oats, milk, chia seeds, goji berries in a bowl
Cover the bowl and place it in the fridge overnight. Put the frozen berries in a separate bowl, cover them and place the bowl in the fridge overnight to defrost.
The next morning, give the oat mixture a quick stir, add the berries and sprinkle a few coconut chips on top (optional).