This is the green juice recipe of the green juice recipes. It only has five ingredients and all of them are true superfoods. This juice is packed with vitamins, minerals and important cancer-fighting agents and it's incredibly delicious. You just feel like you are drinking health. You can have it as a morning juice or as a shot in the afternoon when you want to boost your energy levels. You can make a bigger batch and drink it for the next few days, just keep it in the fridge.
Have you made this green juice recipe?
We'd love to see your juice creations! Please leave a comment below, share or tag using @anticancerkitchen on Instagram and hashtag it #anticancerkitchen.
More anti-cancer juice recipes
Check out our juice and smoothies category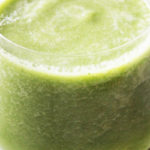 Ingredients
1 pineapple skin removed

1/2 broccoli (florets)

50g spinach

3 celery stalks

1 lime
Instructions
All you need is a juicer and juice all the ingredients. Be careful when juicing, put small amounts of the produce otherwise it will jam.