Let's drink kale avocado smoothie, this one is made of kale, avocado, apple, and mango and is incredibly tasty and healthy.  Not to mention detoxifying and energy-boosting.
Kale avocado smoothie
This green smoothie recipe made with two superfoods mixed together to give you the best start to your day. This combination is with mango and apple. Mango and avocado just work and complement each other beautifully especially in a smoothie. The health benefits of kale are amazing. Research has shown that kale enhances our immune system and prevents cancer growth due to its high levels of antioxidant, antigenotoxic and anti-inflammatory properties. Kale has also been associated with reduced breast cancer risk as consumption of kale has been shown to reduce estrogen metabolite 16alpha-hydroxyestrone, which is a breast cancer promoter. Moreover, a big study in the US in 2016 reported that women with high kale intake in early adulthood had a reduced risk of breast cancer in middle age and later years.
Have you made this smoothie recipe?
We'd love to see your drink creations! Please leave a comment below, share or tag using @anticancerkitchen on Instagram and hashtag it #anticancerkitchen.
More anti-cancer juice and smoothie recipes
Check out our juice and smoothie category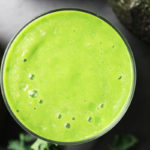 Ingredients
1 normal size avocado

40g kale

6 apples (if juicing) or 300ml apple juice

1 normal size mango (remove the skin)
Instructions
Juice the apples or use organic apple juice from the shop. Put the kale, mango and avocado in a blender, pour the juice with some ice (optional) in the blender and blend until smooth.