This pineapple juice recipe with apple and ginger is refreshing, zingy and immune-system boosting. The health benefits of juicing pineapple are extraordinary. Research has found that the pineapple enzyme bromelain can potentially destroy cancer. According to research, bromelain is one of several natural foods proven to help prevent and fight cancer.
Why is this pineapple juice recipe anti-cancer
In this pineapple juice recipe, we have also included ginger as a new study revealed that ginger contains a pungent compound that is very powerful in targeting the cancer stem cells that are at the root of cancer malignancy. And, apples because they boost our immune system and keep us free from infections, which is so important especially during chemotherapy. 
Juicing benefits
Juicing is a very effective way of getting all the nutrients our bodies need. And the juices that you buy in the supermarket aren't the same. They don't have the same juicing health benefits as they are made with additives and sugar in order to preserve the flavour and enhance the taste. It is fair to say that most of them hardly offer any significant nutritional value and they tend to increase your insulin levels and store fat, unless it's a freshly pressed juice of course. However, juicing raw fruits releases lots of important antioxidants and other nutrients without spiking our insulin or storing fat. The taste might not be as sweet, particularly if you're used to the concentrated high sugar juices but this type of juicing has lots and lots of benefits on our health.
Does pineapple juicing come with any risks?
Juicing in the morning and enjoying a fresh glass of pineapple juice with apple and ginger before you leave the house does help to keep the body energised and boost you with all the nutrients you need to start your day. It is also a great way to keep your body detoxified and remove free radicals and metals. But, are there any risks to juicing? To be honest there are not many risks with juicing pineapple unless your doctor has advised against juicing for a specific reason.
The risk with juicing
Those with kidney conditions should be careful about what they juice since oxalate products (products high in vitamin C) could potentially worsen kidney stones
Juicing alone may lower calories and lower the weight for a while but unsustainable without exercises and other long-term weight reduction plans
Pineapples are high in sugar
If juices consumed are not well kept in the fridge or vegetables not cleaned before juicing, they could cause infections
Juices with laxatives and other bowel stimulating ingredients could see lots of nutrients being lost in the stool
Too much consumption of insufficient calories could lead to decreased blood sugar and deny body the energy it needs leading to serious hunger, headaches, dehydration, weakness and even fainting. As such, juicing should never replace all the meals
Have you tried our pineapple juice recipe with apple and ginger?
We'd love to see your juice creations! Please leave a comment below, share or tag using @anticancerkitchen on Instagram and hashtag it #anticancerkitchen.
For more anti-cancer juices and smoothie recipes, click here.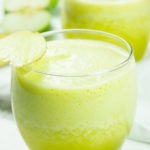 Ingredients
1 pineapple

3 green apples

5 cm ginger
Instructions
All you need is a juicer and juice the pineapple, green apples and a little bit of ginger

Copyright secured by Digiprove © 2020 The Anti-Cancer Kitchen