Vegan tofu meatballs that are full of nutrition served with tomato and beetroot mash and gravy. Now that's a perfect weekday dinner in our eyes.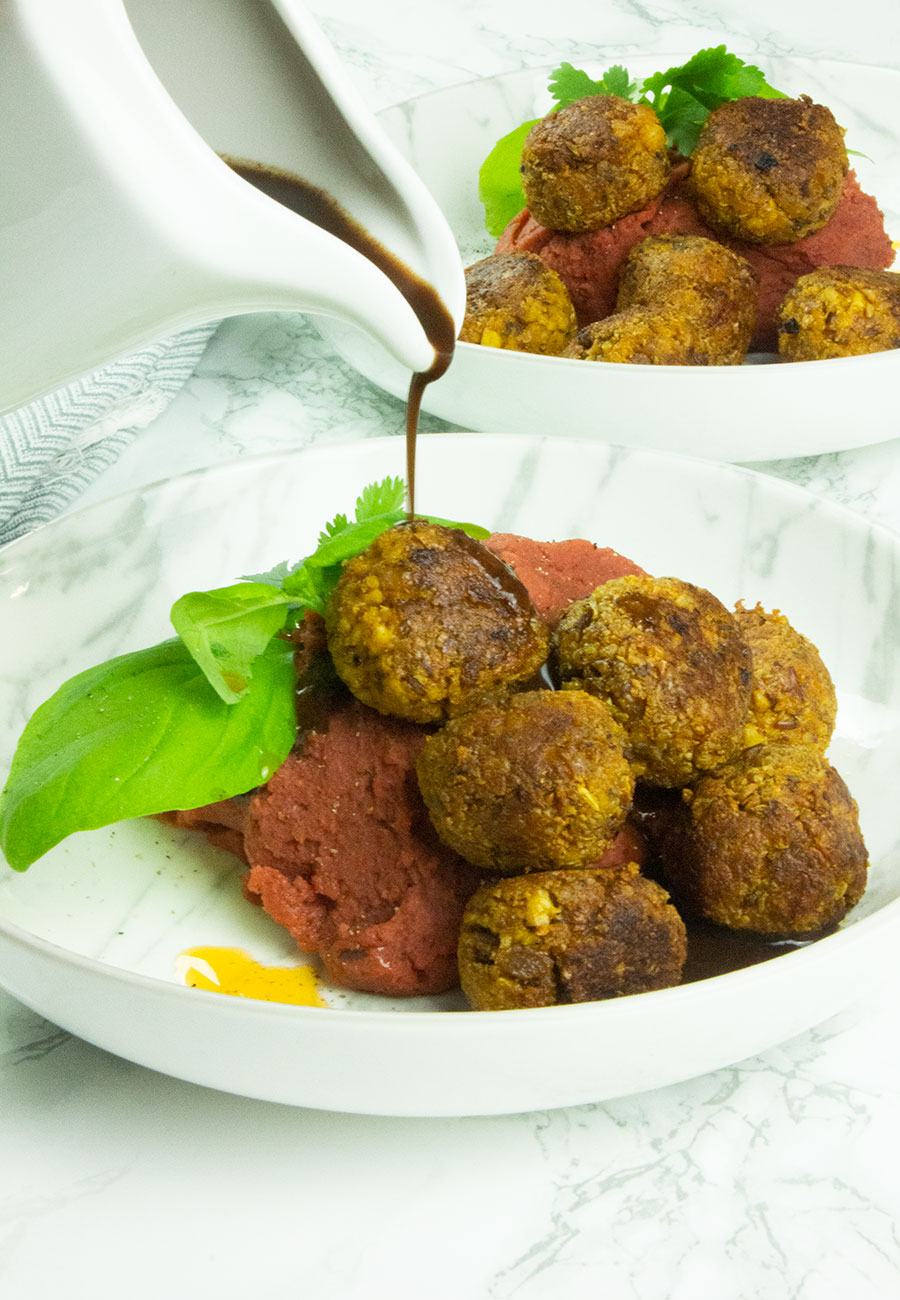 Vegan tofu meatballs with tomato and beetroot mash recipe
The "no" meatball is the plant-based relation to the meatball. They are the healthy, well-travelled and well-cultured richer relation. Oh how the better half live! These wonderfully flavoursome and firm morsels have benefitted from the vivacious worldly genes of all their counterparts. First of all, they have come far from their original Ancient Roman origins. They have transcended the Qin dynasty native cooking of the Shandong and even their ancestry from the Middle East. These "no" meatballs are fluent in many languages.
They say 'köttbullar' in Sweden and mingle beautifully with mash and lingonberries. They visit the Indian sub-continent and come back with wonderful aromatic spices from their kofta cousins. Then on to Europe, to holiday in Greece with Keftedes and to Iberia and Italy where they party with their Polpette and Albondigas friends. They are often invited to the American's where they are often the star of the show in a bowl of spaghetti, on a pizza or in a sub. Everywhere they are they are the attraction.
They have the gastronomy of France and their boulettes, the engineered heartiness of their German frikadelle brothers and sisters and endless varieties of the Israeli ktzitzot basar. The "no" meatball is the socialite of the vegan, plant-based world. Wherever they are, they shine. Whether that is in a rich tomato sauce, wrapped in flat breads or perched upon  a silky mash they will take on the specific aspects of that cuisine but never lose their quality or integrity.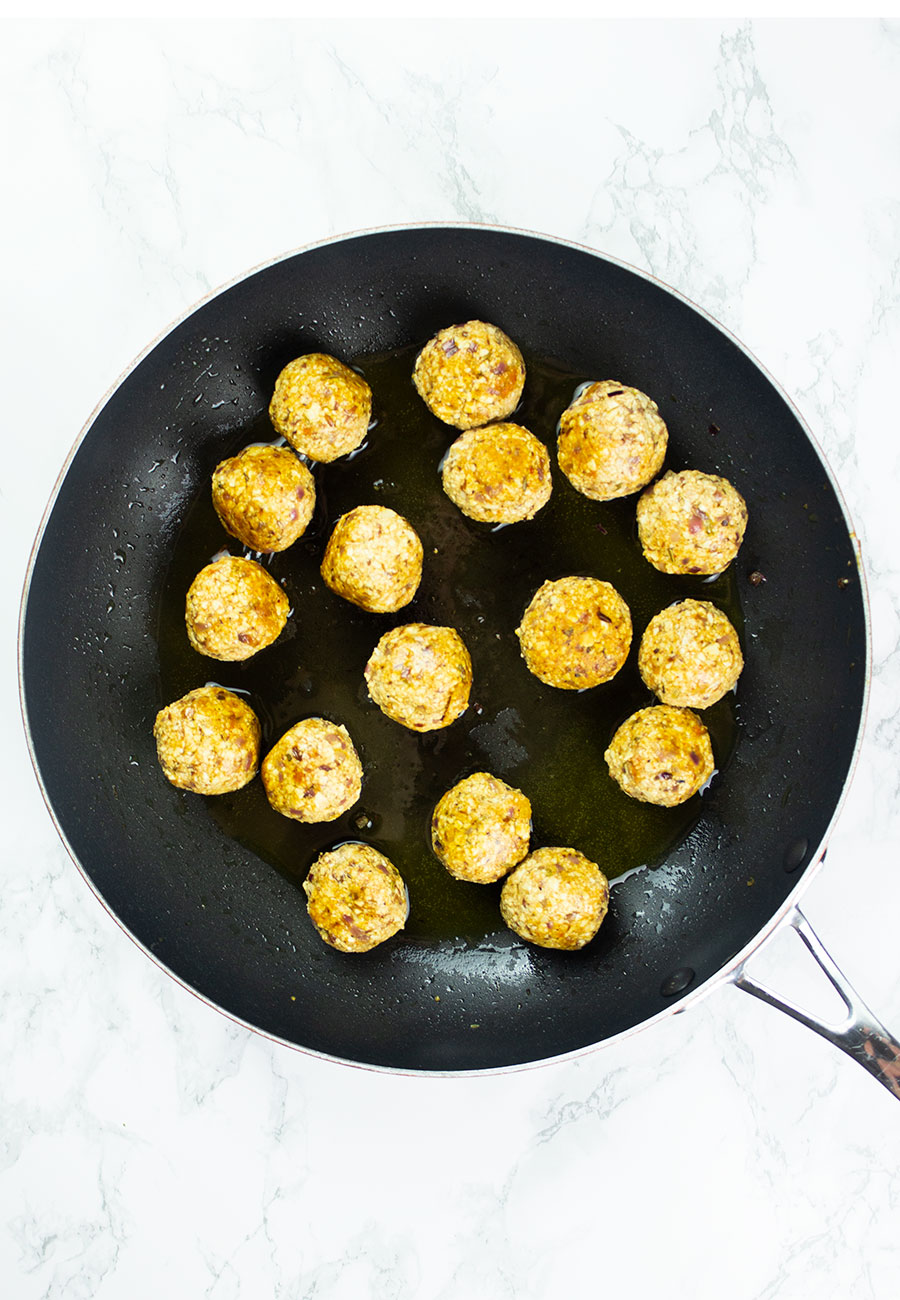 Vegan tofu meatballs with a firm bite
The reason these "no" meatballs are so versatile is down to the varied but fairly limited ingredients. Not only does this add to the simplicity of the preparation, it helps identify missing flavours to easily add if you are tailoring your vegan meatball to a specific cuisine. If you are preparing some koftes, then adding some choice aromatic spices is simple. In south-east Asia cuisine the addition of lemongrass, chilli and ginger or lime leaves would add the necessary dimension to your dish. In this recipe we have given the necessary ingredients to showcase a beautifully rounded and full of flavour vegan tofu meatball that would sit proud by itself or in a flavoursome stew or sauce  or in this case sitting aside a nutritious beetroot and tomato mash.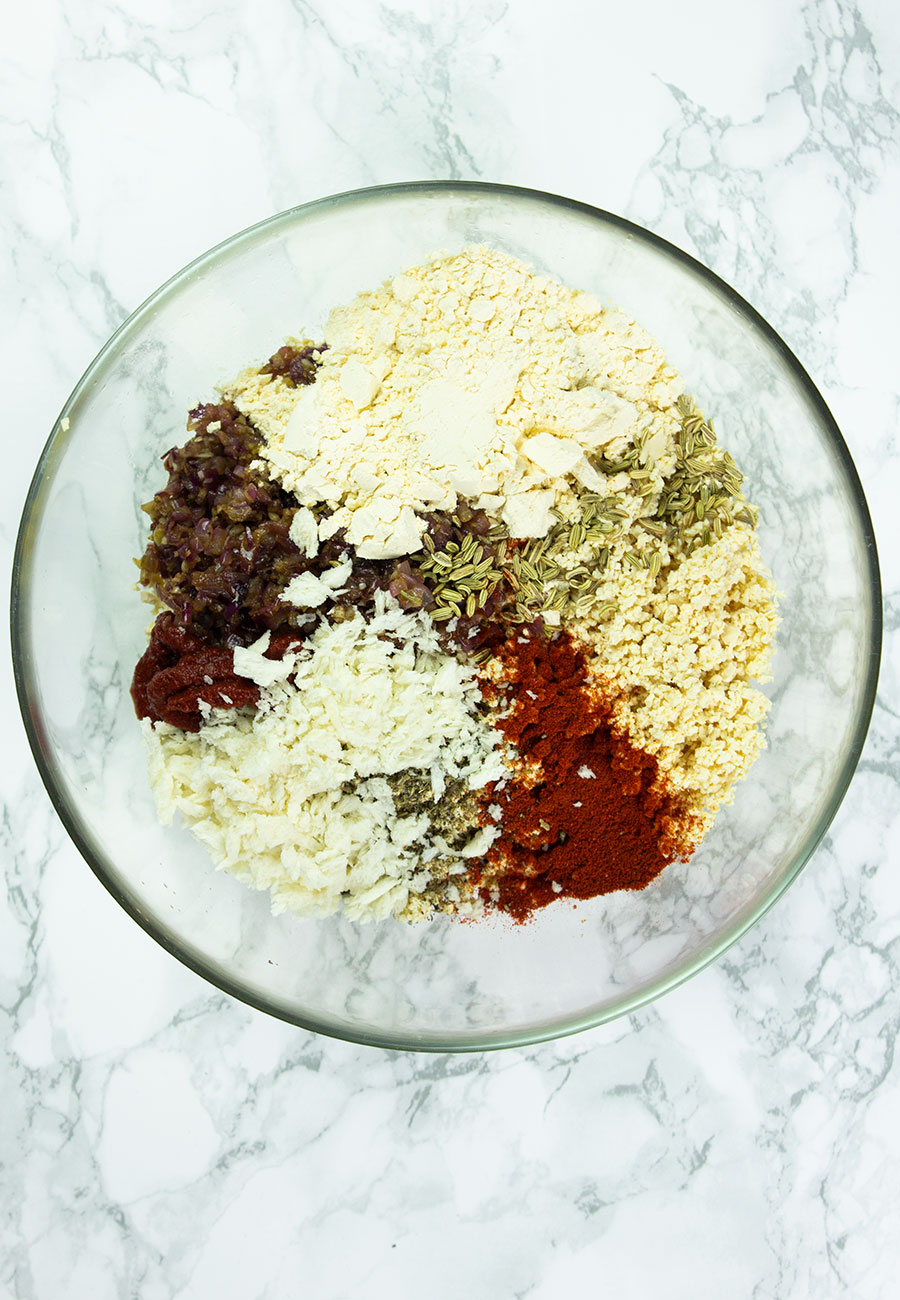 The main bulk of texture comes from a firm tofu made out of soybean curds. It is a good source of important minerals for your body such as iron and calcium. For plant-based diets this is a very good source of protein. It also contains isoflavones such as genistein  that have been linked to helping the body protect against cancers. Isoflavones do however have a chemical structure resembling oestrogen which is why there has always been confusion for breast cancer survivors whether to consume whole soy foods or not. It has been shown though that consuming moderate amounts of whole soy foods do not appear to affect the risk or growth of developing breast cancer. In fact more and more studies are being linked to moderate intake of soy foods to a decrease in breast cancer recurrence.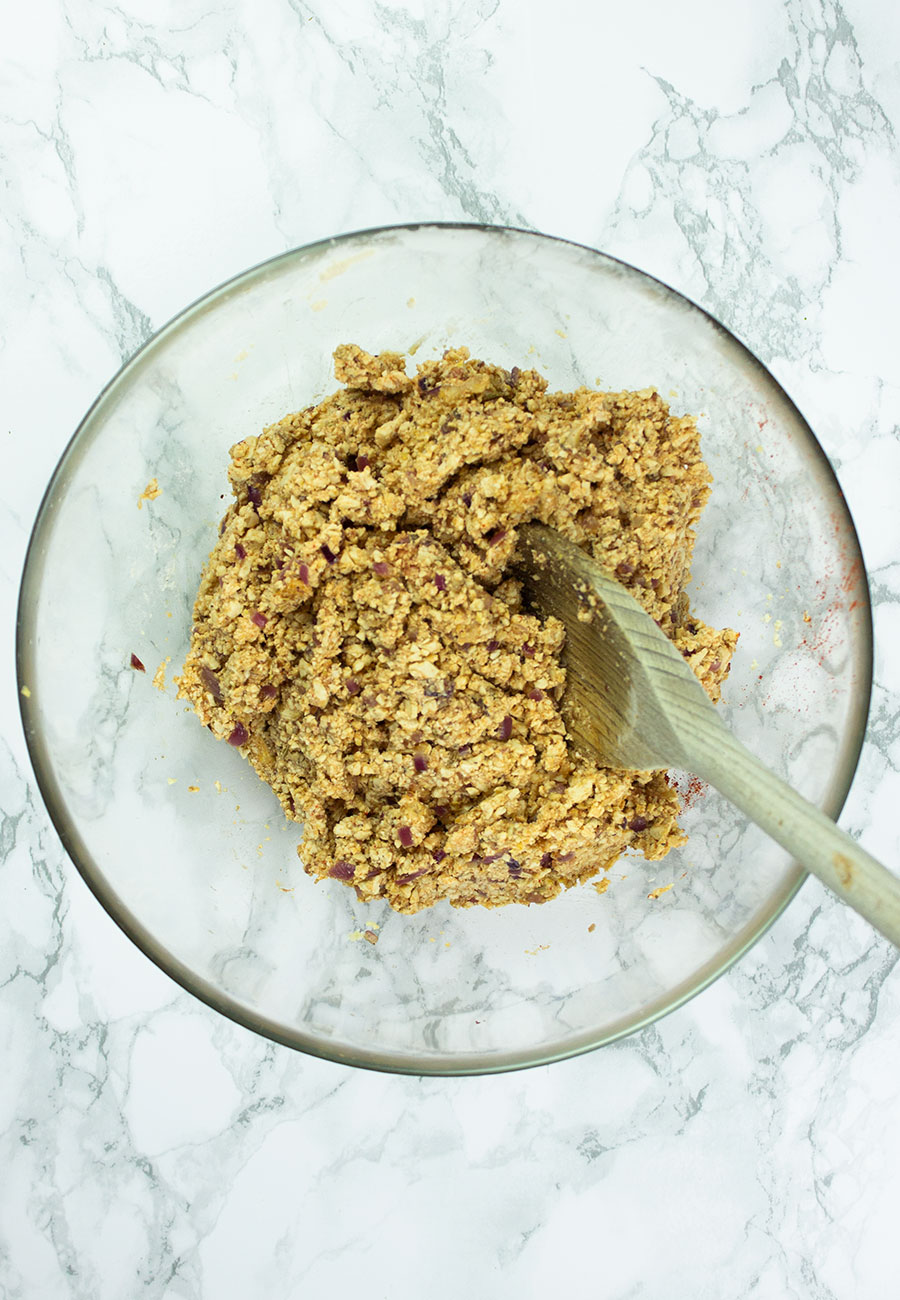 Tofu, which is so prevalent in asian cuisine is also very much a host ingredient. This means that it soaks up the flavours around it so it can turn into something highly flavoursome. In this vegan tofu meatballs recipe not only do we add lots of nutritious and antioxidant green herbs such as sage and fennel, we also packed it with delicious Mediterranean flavours. A few other choice flavours and textures found all over the world including a flax egg which cleverly glues the ingredients together and you're left with a vegan or "no" meatball worthy of anyone's dinner table.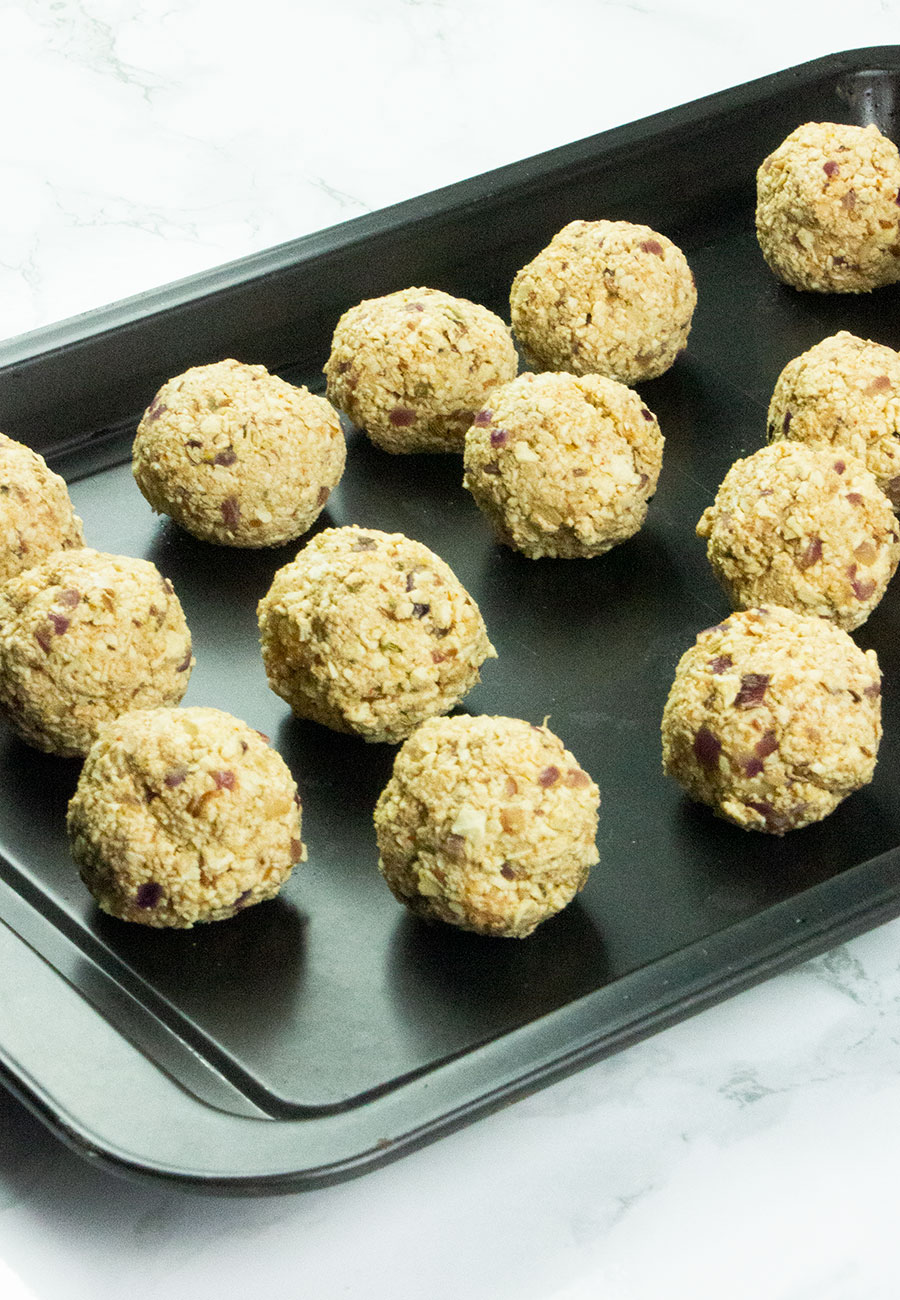 Easy tomato and beetroot mash
This super tasty and easy-to-make potato mash complements our vegan tofu meatballs perfectly. Nevertheless, this vegan mash is full of nutrient-rich properties such as lycopene. Lycopene, found in tomatoes, is an important carotenoid and a powerful antioxidant which protects against cell damage. Studies have shown that people who eat a lot of tomato-based products have a lower risk of certain types of cancer. Beetroots contain almost all the vitamins and minerals that our bodies need and their antioxidant and anti-inflammatory components make them incredibly anti-cancer. Other important health benefits include:
– Improved digestive health
– Helping fight inflammation
– Supporting brain health
– Helping with weight management
– Reducing risk of heart attacks, heart failure and stroke

Have you made this vegan tofu meatballs recipe?
We'd love to see your food creations! Please leave a comment below, share or tag using @anticancerkitchen on Instagram and hashtag it #anticancerkitchen.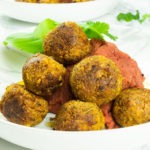 Ingredients
For the vegan tofu meatballs:

280g of firm tofu

1 red onion, finely chopped

3 tablespoons of gram flour (chickpea flour)

1 tablespoon of panko breadcrumbs

1 tablespoon of flax egg (milled flax seeds to water ratio 1:3)

1 tablespoon of tomato puree

1 teaspoon of fennel seeds

1 teaspoon of sage

1 teaspoon of paprika

1 teaspoon balsamic vinegar

For the mash:

4 Maris Piper potatoes, peeled and cubed

3 cooked beetroots

2 tablespoons of tomato puree

1 tablespoon of Italian herbs

1 teaspoon of Dijon mustard

Olive oil

For the gravy:

Olive oil

1 red onion peeled and finely diced

2/3 cup (160ml) of red wine

1 ¼ cups (310ml) of vegetable stock enriched with 1/2 teaspoon of yeast extract

1 tablespoon of nutritional yeast

Salt & pepper
Instructions
For the vegan tofu meatballs
Sauté the onions in a hot pan in a little olive oil for 3 minutes. Stir in the balsamic vinegar and sauté for a further 2 minutes until caramelised. Set aside to cool.
Put the tofu in a food processor and blitz to form a minced texture.
Combine all the "no" meatball ingredients together and roll into balls. Set aside on some baking paper. In a hot frying pan fry in batches in olive oil for 5 minutes until browned. Place in a 200c oven for 10-12 minutes.

For the mash
Boil the potatoes for 10 minutes, add the beetroots and boil for a further 4 minutes. Drain and separate the beetroots from the potatoes.
Put the beetroot in a blender, add the tomato puree and process until smooth.
Mash the potato with the olive oil and the herbs. Stir in the beetroot, Dijon mustard and tomato puree.
For the gravy 
Put a little olive oil in a saucepan on a high heat and add the onion. Fry for 5 minutes until soft and starting to brown. Pour in the red wine, the vegetable stock and nutritional yeast and bubble on the same heat for a further 10 minutes. Bring the heat down slightly and reduce for a further 15-20 minutes or until the sauce coats the back of a spoon.
Notes
Start with the gravy to save time.